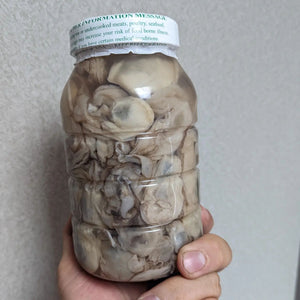 Virginia Select Oysters in Quart Containers.
We are again into Virginian Oyster Season with deliveries coming every week.

We are taking weekly preorders on Oysters. Please get all orders submitted by Monday at 10 am to ensure you'll have them on Wednesday after 10 am.
All sales are FINAL. No refunds given for failure to pickup an order. Please contact the store if there are other questions or concerns. As supplies allow, all our seafood will be coming via Kellum Family out of Weems, VA. 

Christmas Deadline: December 20, 2023 - 8 am
Christmas Pickup: December 21, 2023 - 10 am
New Years Deadline: December 27, 2023 - 8 am
New Years Pickup: December 28, 2023 - 10 am
*More dates might be added based upon demand 
If you are looking to reserve seafood with an EBT, P-EBT or SNAP Card, then you MUST come in-store and talk with a clerk.