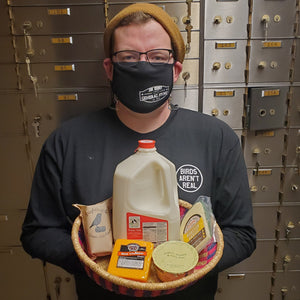 We carry a variety of dairy products in our coolers and freezers from local Whole Milk to fermented Mango Lassi Yogurt. Based upon our Pantry Box program, we will be curating a selection of dairy treats every week. You can expect different assortments of milks, yogurts, and of course ice cream in your weekly pickup. 
Engaging in our Dairy Box program for the long haul is a great opportunity to sample a variety of cheeses, milks, ice creams, frozen treats and some plant based substitutes! 
If you'd like to pay with CASH or EBT, then please click here.
The box is ONLY available via pre-orders and pick-up, no shipping.
Please order about 24 HRs before pickup date.

Pick-up begins after 9:30 am outside our Tin Shed for contactless transfer.
Please note these products will require refrigeration or freezer space after pick-up, so plan accordingly.