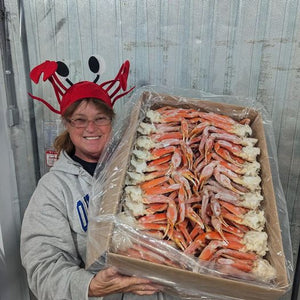 Reserve a 30 lb case of SNOW CRAB Legs for your family.
Pickup is EVERY Friday afternoon after about 2:30pm

This is a new program for us and we are working to meet demand for this delicious source of protein. Preparation Tips

Please get orders in by Wednesday at 4pm to ensure pickups on Friday.
Otherwise, ordered will be rolled over to the next week. 
Terms & Conditions:
No refunds are available on crab legs reservations: ALL Sales Final.
Due to limited freezer space, we are working to choreograph pickup strategies for everyone. Please pickup in a timely manner. Crab Leg not pickup within 72 hrs are forfeit. 

PICKUP ONLY - We do NOT ship!