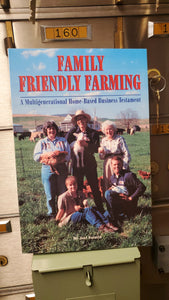 Saving the landscape, rebuilding entrepreneurial rural families, and protecting nutritious food are the themes of this timeless treatise-hence the word "testament." Delving into the soul of the Salatin family's nationally acclaimed Polyface Farm, author Joel Salatin offers Family Friendly Farming as the key to dealing with resource issues, food policy, and social fabric.
With humor and personal stories, he opens his family and farm convictions for all to see, share, and enjoy. Written from his unabashed "Christian libertarian environmentalist capitalist" perspective, his ideas are guaranteed to encourage and challenge virtually every "ism" in the culture. It will captivate anyone passionate about healing the land, healing families, and healing the food supply.
For several decades young people have been leaving the family farm. The ones left behind are now responsible for society's greatest resources: clean land and clean food. Anyone dedicated to preserving these resources will find in these pages a nongovernmental, self-empowerment approach to environmentalism and food safety.
The heart of this book is aimed toward parents tired of their Dilbert cubicle at the end of the expressway who want to reconnect with their children through a pastoral lifestyle. It's written for anyone who yearns to grow old working with and being adored by value-sharing grandchildren and honored by passionate, productive adult children. Family Friendly Farming can make any family business more viable and any family more functional.
The ten-chapter section on how to get the kids to love the farm is an invaluable addition to any collection of child-rearing manuals. Salatin moves from the family team-building section into a practical discussion on how to increase income per acre and create new, white-collar salaries without buying more land, equipment, or buildings. He deals with the unique and thorny issues surrounding any family business by using his own multi-generational family farm experience as his base for insight and wisdom.